About Steeplechase Toffee
For years I made this secret family recipe toffee only at Christmas to send to friends and relatives. This caused a great deal of hoarding to go on and bitter fights broke out around the country. Finally, one exasperated friend said, "Listen, you've gotten us hooked on this stuff! Since you won't share the recipe, you're going to have to sell it to us!" So I did. Now you can have some too!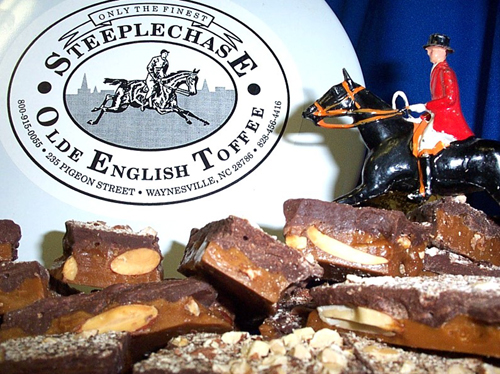 I still use only the freshest ingredients (or my aunt June would strike me down from heaven) and it is still a labor of love, done by hand, the old fashioned way.

It's a buttery, crunchy, mouth-watering dessert, and no one's ever had any better, I hear. So serve it up proudly after dinner with coffee. Or hide a little stash in the 'fridge for a sneaky treat on a rainy day like my mother does.
Thank you,
Barbara Joyce